The first museum collaboration in 2017 was "The Art of Burning Man" at the Hermitage Museum in Norfolk, Virginia, which ran from June 4 to October 14. This exhibition featured the work of Five Ton Crane, Michael Garlington and Natalia Bertotti, Gregg Fleishman, Charles Gadeken, Jim Peterson, and Kirsten Berg. Large-scale installation art was transposed from the Nevada desert to the forested grounds of the historic Virginia museum.
Burning Man co-founder Crimson Rose and art logistics coordinator Brody Scotland gave in-person presentations, and the Hermitage hosted gatherings throughout the year to enable Burning Man-style participation and creation. The exhibit also brought together Burners from surrounding local areas, who served as docents and helped bring the Burner sparkle to the Hermitage. In fact, a new regional group called the Tidewater Burners emerged directly from the collaboration in Virginia. Burners were able to find like-minds by rallying around Burning Man coming to their backyard.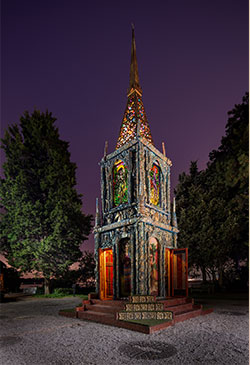 Next up, Burning Man veteran and archivist Christine "LadyBee" Kristen guest-curated an exhibition called "Playa Made: Jewelry of Burning Man" at the Fuller Craft Museum in Boston, Massachusetts, which ran from February 11 to June 4. The exhibit featured 175 pieces of jewelry from LadyBee's collection and 10 photos by George Post. LadyBee, George and Karen Christians participated in a panel discussion at the museum on the weekend of the opening. While Burning Man Project was not a formal partner, the exhibition landed right at the core of our mission. Participating maker Garrison Cohen said, "It reinforces that Burning Man is about the art, not about commercialism, or separating the hobbyists from the professionals. It's about coming together as a community to contribute what we can and to appreciate what others contribute."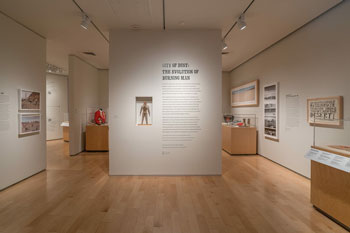 In July, "City of Dust: The Evolution of Burning Man" opened at the Nevada Museum of Art in Reno. This exhibition told the story of how it all went down, featuring artifacts and documents tracing Burning Man's evolution. This was our most involved museum partnership to date; in addition to procuring these historic materials, Burning Man Project founders and staff gave a wide range of in-person presentations for museum visitors, from screenings of raw, classic playa videos to lectures about the philosophies and schools of art that influenced Burning Man, and from live storytelling about the early days to nuts-and-bolts talks about how all the building and burning and leaving no trace gets done. "City of Dust" remained on exhibit through the first week of January, 2018.
National Week of Making
The U.S. had its first ever National Week of Making in June 2017, driven by a new national nonprofit called Nation of Makers, of which Burning Man co-founder Harley K. Dubois is a board member. Burning Man joined this celebration of America's vibrant maker culture with a week-long Burning Man Journal series covering many of our culture's civic-minded maker projects and spaces.
The series covered a program teaching at-risk teens in the Bay Area to build their own boomboxes, an in-depth interview with Nation of Makers Executive Director Dorothy Jones-Davis, various ways 3D printing and modular workspace design are revolutionizing disaster relief efforts, and ways in which cities are (or should be) big makerspaces writ large — and not just Black Rock City, which clearly already is one.
Finally, in December, we introduced the public to the upcoming exhibition, "No Spectators: The Art of Burning Man," which opened in March 2018 at the Renwick Gallery of the Smithsonian American Art Museum. This multimedia exhibition in the nation's capital is one of Burning Man Project's biggest stories of 2018.
This feels like a new chapter in Burning Man's history for multiple reasons. The fact that traditional arts and culture institutions are interested in curating Burning Man exhibitions is remarkable, but it's important to note that these institutions came to us seeking a collaboration because they recognize Burning Man as an important arts and cultural movement (something we've all known for a long time). Not only are the work and stories produced by our culture seen as legitimate, they're relevant, perhaps even necessary.
And it's a healthy creative challenge to figure out how best to create a Burning Man experience for museum goers and participants outside of the great "tabula rasa" in the desert, while protecting and celebrating the things that make Burning Man so decidedly special and different. It has always been interesting to ask what the outside world finds meaningful about Burning Man, but given this new level of interest, there's a new, more interesting question: What is it about this moment in history that makes Burning Man so relevant?